MOB and RS & WBV Workshop Update

26.04.2017
Over 80 people attended two specialist one day events for the sub IMO / sub 24 metre professional sector at Grand Harbour Southampton on 25 and 26 April.
The unique NEXT GENERATION Workshops brought together an international group of experts armed with the latest knowledge to identify problems that affect the maritime sector worldwide – and highlight potential solutions!
A wave of cutting edge maritime innovations were highlighted and discussed by marine industry professionals including:
3Si / ASV Global / Atlantic Pacific Rescue / Blizzard Survival / Border Force / BIBOA - British Inflatable Boat Owners Association / Century Maritime / Christchurch Rowing Club / Clipper Ventures / Corporate Clothing Solutions / Corporazione Piloti Stretto Messina - Italy / Dacon - Norway / Dyena / EREZ Europe BV / Estuary Services / Exposure Marine / Falmouth Harbour Commissioners / Frazer-Nash Consultancy / Goodchild Marine / Grammer AG / H M Coastguard - National Maritime Operations Centre / Harken UK / Hot Lemon / Inshore Fisheries & Conservation Authority / ISVR - Institution of Sound & Vibration Research / IMRF - International Maritime Rescue Federation / ISO - International Organization for Standardization - Seat Testing Working Group / Jasons Cradle / KNRM - Dutch Lifeboat / KPM Marine / MAIB - Marine Accident Investigation Branch / NDP - Naval Design Partnership / Norwegian Sea Rescue / Orolia Ltd / Pin Point Electronics / Port of London Authority / Restech Norway AS / RNLI - Royal National Lifeboat Institution / RYA - Royal Yachting Association / Safety & Survival Systems International / Saviour Global / Seago Yachting / Sea Safe Systems / Sea Sure / Shock Mitigation / SHOXS / SKYDEX Technologies / Solent RIB Charter / SMMI - Southampton Marine & Maritime Insitute / Spinlock / Sussex IFCA / TNO - The Netherlands / USCG - United States Coast Guard / UKMPA - United Kingdom Maritime Pilots Association.

Topics are relevant to Workboats, Pilot Boats, Patrol Boats, Search & Rescue, Wind Farm Support, Fishing, Survey Vessels, Superyacht Tenders and the emerging market for Unmanned Surface Vessels. Workshop attendees include Boat Builders, Equipment Manufacturers, Service Providers, Designers and Classification Societies.
NEXT GENERATION Workshop supporters include Southampton Marine & Maritime Institute, Southampton University, UK Maritime Pilots Association, British Marine, Shipbuilders & Shiprepairers Association.
Workshop Lead John Haynes said, 'We focus on viable innovation and using people's time effectively. We also know that having the right people onboard is essential and there is no substitute for meeting the experts face to face when asking the hard questions. We are really proud to welcome onboard this great group of maritime professionals and innovators.'
Boat builders and specialist component manufacturers now recognise that they need to work together to develop next generation systems that fit the rapidly changing requirements of modern fleets. The unique knowledge gained from these workshop sessions will help to shape long term decisions that lead to improvements for in-service systems and procurement of next generation vessels.
Fast moving Workshop format had 6 different presenters on each day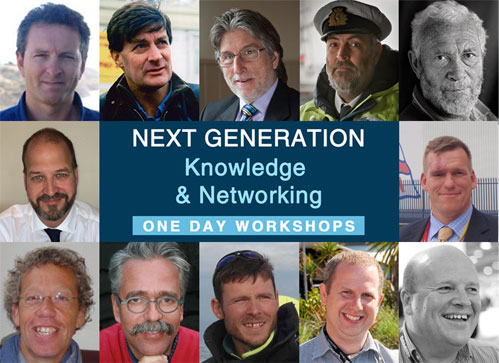 NEXT EVENTS - OCTOBER 2017
All images are copyright Shock Mitigation 2023 unless otherwise stated.
This does not exclude the owner's assertion of copyright over the material.