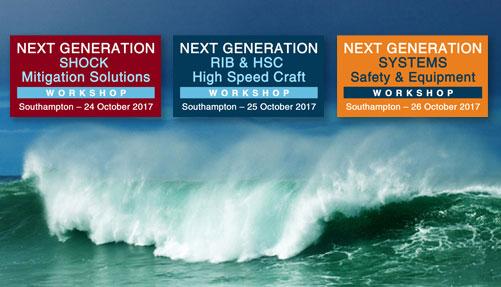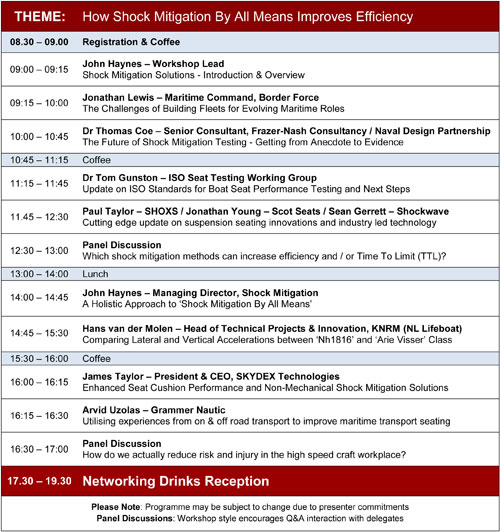 In October 2018 maritime professionals from all sectors participated in 3 dynamic one day NEXT GEN Workshops in Southampton UK. Presentations addressed aspects of operational safety for vessels, along with the safety and welfare of their crew and passengers. The group of Presenters brought a wide range of experience and expertise from sectors including ports, security, SAR and defence.

The Workshops examined emerging technology compared to traditional methods. Workshop Lead, John Haynes said, 'Maritime industry is steeped in tradition with a long history of changing slowly - but not anymore! The future is arriving faster than expected, but how do we identify genuine improvements compared to novel ideas that simply do not belong at sea. Our approach is to bring together a group of experts to consider what really works on a dark and stormy night.'
The Shock Mitigation Solutions Workshop theme considered 'How Shock Mitigation By All Means Improves Efficiency.' Topics look beyond simply complying with vibration directives or unrealistic health and safety objectives that are hard to apply in the maritime workplace.
The RIB and High Speed Craft Workshop theme looked at 'Boat and Equipment Procurement in a Changing World.' Topics include Commercial Off The Shelf (COTS) solutions, through life support of fleets and balancing the need for speed with reliability and durability.
The Systems Safety and Equipment Workshop focused on 'Identifying and Avoiding Single Points of Failure at Sea.' Improving situational awareness is an emerging theme. Design led redundancy is essential for critical tasks including power, navigation and communications.
The unique knowledge gained from presentations and panel discussions will help to shape decisions that lead to improvements for in-service equipment and procurement. John Haynes added, 'When groups of maritime professionals get together their shared knowledge and experiences can improve both the performance of their organisations and the seafarer workplace.'
NEXT GEN Workshop days are relevant to workboats, pilot boats, patrol boats, search & rescue, survey vessels, wind farm support, superyacht tenders, training and charter vessels. Attendees include professional and military organisations, boat builders, equipment manufacturers, service providers, classification and standards organisations.