Solo RIB Driver becomes a Man Overboard - 18 Miles Offshore in the Irish Sea
Heading from Wales to Ireland for the start of the 2013 Round Ireland Challenge, the solo occupant of the 5 metre RIB 'Merlin' was ejected into the water 18 miles off St Ann's Head in the Irish Sea. This presentation recounts lessons learned from the man over board's perspective.
Andy recalls, 'I was varying speed according to the conditions. Seeing the seas flatten out I increased speed. I had just checked SOG on the plotter at 24 knots when I came to a fairly innocent looking crest that I remember hitting with a slight lean to starboard. The crest concealed a very deep trough, and the boat snapped rapidly to starboard and dropped down. I remember looking at the sea rushing closer to me, and the boat running on its starboard tube, seemingly still pointing vertically down. It took a fraction of a second but the sickening feeling of rolling out of the boat seemed to be happening in slow motion, until I impacted the water on my right shoulder and disappeared under the surface. The initial impact and ingestion of water was extremely disorientating. I started to take stock. I noticed the kill cord still attached to my leg, but couldn't see the boat. I had to spin myself round, then saw it some 50 to 75 metres away. The engine had stopped – the kill cord had worked. My auto inflate life jacket had not fired, the hybrid life jacket had 75 newton of foam buoyancy and 165 newton in air chambers, I pulled the toggle and it inflated. The handheld VHF webbed into my lifejacket had smashed into several pieces on impact with the water. It rapidly became apparent that as the RIB had more windage, whatever wind and current action was acting on me was also pushing the boat disproportionately further away from me. The distance between myself and the boat was opening up all the time.'
Andy Proudfoot – RIB Operator, Round Ireland Challenge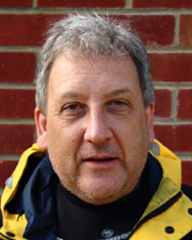 Andy Proudfoot describes himself as a boating 'Fan'. When not producing live music events around the globe, power boating is his escape, and specifically RHIBs and Inflatables.
Based in the north east of England, he has always been keen on big adventures in small boats, whether in the Western Isles of Scotland, Ireland, the coast of California, or the San Juan Islands in the Pacific North West.
He was a participant in the 2013 Round Ireland RIB Challenge. When not working or on the water, he writes articles for Powerboat and RIB magazine.
Andy has shared his thoughts on what PPE and safety equipment worked, what could be improved and what he learned from his survival in this excellent summary.