SEABOB RESCUE – The Lightweight and Portable Lifesavers Watercraft
The SEABOB RESCUE watercraft is designed for rescue missions on and under water. The low overall weight makes SEABOB portable by a single person. A SEABOB can be steered and driven easily in a range of conditions, from rescue operations in waves at sea to flowing inshore waters. Thrust generated by the Lithium-Ion E-Jet Power System enables the SEABOB to cut through tide and current.
The operator steers SEABOB RESCUE watercraft via two intelligent Controlgrips with Piezo technology. The central cockpit is central in the operator's field of vision. All important technical data from the engine electronics are accurately shown on the TFT colour display. This provides the operator with information on the current driving performance and selected power level. The indication of accumulator charging level and remaining operating time keep track of the remaining capacity. The operator also receives real-time information about his diving depth and the water temperature.
The drive unit is made using carbon elements, ceramic coatings and metals resistant to salt water. The power for the drive mechanism is provided by Lithium-Ion accumulators. For safety reasons, the high-performance accumulators of the SEABOB are certified according to the UN transport test UN / DOT 38.3. As the SEABOB is approved for air transport, it can be utilized for rapid transportation to rescue situations, incidents and disaster areas.
Ben Metcalfe - Chief Executive, Landau UK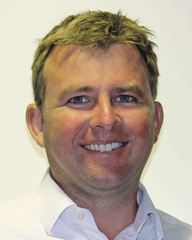 Ben is Founder and Managing Director of Landau UK; the leading commercial, leisure and trade marine retro-fit specialists. He continues to expand the business from an initial one-man band into a full service 24-strong team. He is a dedicated member of the National Boat Shows Board and Chairman of British Marine South, which provides support to over 300 Marine Businesses on the South Coast.
Ben's passion and commitment within the maritime industry has been the main influencer of Landau's growth in the leisure, trade and commercial marine market which has grown from strength to strength over the years. Testament to this is that Landau UK will be celebrating their 25th anniversary during 2018.
Over the years Ben has successfully established strong commercial relationships, working with Babcock, UK Docks, DEFRA, Shell, BP, the MOD and other maritime partners.
Ben's skills include Marine Repair, Project Management, Marine Electronics, Refit, MCA Coding, Surveys, GRP Fabrication & Repair, Stainless Fabrication, Shipwright and Joinery.