Pilot Overboard in the North Sea and South Atlantic
Every pilot's nightmare is to fall off the ladder whilst boarding. Although such incidents are fortunately very rare, when it does happen there are lessons to be learned by everyone involved – including the casualty in the water.
In February 2011 Captain Jon Stafford fell from a pilot ladder 6 miles off Margate UK while boarding a cargo ship at night in the North Sea. He recounts this MOB incident to help others, 'I remember looking down to check whether I was falling onto the cutter or into the sea. Fortunately the cutter had moved clear of the ship and was running parallel, close to the ship's side. I knew then that although I wasn't to suffer serious injury from falling onto the cutter, but I was going into the icy North Sea in February between the ship and the cutter. As I hit the water my first thoughts were the propellers of first the cutter and then the ship. When I resurfaced I was at the stern of the pilot cutter but the water flow was pushing me hard up against the ship's side and I knew that it was taking me towards the ship's propeller. As I slid along the ship's side I was dragged right in underneath the counter so I tried to keep my feet up to keep my body on the surface. I estimate that I passed within a metre of the propeller and although from falling to clearing the stern of the ship couldn't have been more than 20 to 30 seconds it felt like a lifetime! Having got past that immediate danger I started to concentrate on recovery.'
Captain Jon Stafford - Pilot, Port of London Authority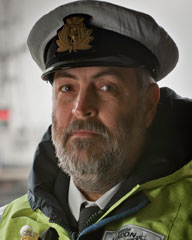 Captain Jon Stafford is an experienced mariner, currently employed as a ship's pilot by the Port of London Authority. He handles all sizes of ships from the sea to berths near Dartford and all berths in between. He recently celebrated his sixtieth birthday and finds it amazing that 43 years has been spent working in the marine industry. He holds an STCW11/2 Master Unlimited and a class 1 (Haven) pilot authorisation as well as a plethora of other marine qualifications.
1973 saw a very fresh faced apprentice start his career on general cargo ships. From here he progressed to carrying Nuclear Fuel, then working as a Fishery Protection officer off the Falkland Islands (where he first experienced an unauthorised swim), a short period on a Russian diving support vessel, then cross channel ferry work, then salvage officer, until he started as a pilot (where the 2nd swim occurred). Both the falls into the water were life threatening. The first one the risk was being drawn into the trawl, the second one being taken through the propeller. He lives to tell the tale and pass on his experiences.