Developing High Performance Safety Helmets for use in Marine Environments
This presentation looks at helmet design for task-specific and multi-role marine applications. An example of a task specific helmet is for 'boat driver use only'. Examples of a multi-role application include boarding teams, search and rescue and maritime pilots. A multi-role helmet in a single shift may be required to offer protection on an industrial dockside, protection for on deck operations and protection when ladder climbing. In addition the helmet has an emergency function to offer protection in a fall overboard and improve survival for a casualty, conscious or unconscious in the water.
Weight, size and comfort are key features of helmets. However with the increasing use of rail systems on helmets the balance point to front or back may be affected by helmet mounted accessories including, visors, communication sets, cameras and lights. These will also affect the drag profile and buoyancy of the helmet and head position of a casualty in the water.
The presentation looks at suitable helmet impact protection for the maritime workplace, considering that a person may trip, fall and enter the water from height. In this situation the impacts can be random and from multiple directions including side, front, rear and top of helmet. The presentation looks at how helmet visibility for casualties in the water can be improved by choice of colour and reflectivity using photoillimensce or specialist reflective tapes.

Colin Holmes – Director, Future Safety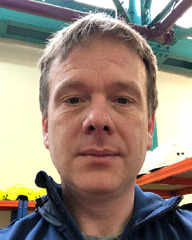 Colin has been in the PPE (personal protective equipment) industry for 30 years.
He started at Hellberg Protection in 1988 designing, developing and manufacturing hearing protection. After a short time at Protector safety, he jointly formed Future Safety in 1992 to design, develop and manufacturer specialist PPE.
For the last 15 years, he has specialised in head protection. Projects involve designing and manufacturing specialist high performance helmets to address risks of injury to the head, while meeting the operational requirements of the end-user in a broad range of professional sectors for land, air and maritime applications.
Future Safety specialise in developing high performance helmets for the emergency services, military, utilities and maritime industries. The range of marine safety helmets are designed to be lightweight, comfortable and suitable for use in challenging environments. Accessories include visors, communications, torch and camera attachments.