Low Resource Rescue and Rapid MOB Recovery for Fishing Vessels and Workboats
Time is critical when a person falls into the water, therefore the response must be rapid and effective. Low Resource Man Overboard Recovery course of action is particularly relevant to small boat operators with minimum crew numbers. Solo operators and two person crews need to consider how they can achieve rapid recovery of a person in the water without outside assistance.
Commercial Fishing is still the most dangerous peace time occupation. The RNLI have a committed 3 man team of commercial fishing skippers working with the fishing industry to reduce the fatalities and life changing injuries. Man Over Board (MOB) recovery is one of the areas RNLI Fishing Safety have been working on. Swift recovery of MOB uses resources that the fishing vessel has at hand. Also working to produce ideas for the vessels to be Rigged and Ready at all times should they have an MOB.
In 2017 fishermen from across the UK and Ireland took part in a series of exercises run in the RNLI College sea survival pool to improve survival techniques and recovery procedures. The RNLI's Fishing Safety team created real-life sea conditions to ensure the fishermen were fully aware of the dangers and challenges of man overboard situations. The pool, which is used to train RNLI lifeboat crew members, features realistic temperatures and can replicate artificial waves, rain and wind conditions.
The event put fishermen through a variety of different scenarios, allowing them to experience a taste of cold water shock in a safe and controlled environment. Participants were able to compare the differences of being in the water with and without floatation devices and wearing their normal fishing clothing. They also practiced recovering a man overboard. Fishermen were able to see how vital personal floatation devices are, enabling them to stay afloat and alive in the sea long enough for a rescue to take place.
There are many circumstances and events that lead to someone drowning. The RNLI and other water safety organisations define this as the drowning chain. This series of events is made up of a lack of understanding, information, protection, ability to cope, supervision and ultimately the rescue. RNLI activities focus on interrupting that chain at every stage. Community safety is core to the RNLI's operations and underpins the aim to halve drowning in the UK and Ireland by 2024.
Frankie Horne - Fishing Safety Manager, RNLI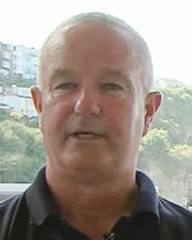 Frankie has been a commercial fishermen for 38 years.
Experience ranges from Deckie to Skipper / Owner.

Main fishing activities Dredging / Trawling / Potting.
Mainly working in fishing vessels under 16.5 metre.
He was board member and Chairman of Isle Of Man Fish Producers Organisation from 2005 to 2015.

He has been a member of the RNLI volunteer crew at Peel, Isle Of Man for 27 years - now Coxswain.
Frankie's role for the RNLI in fishing safety is to reduce the amount of fatalities and injuries in the industry by working with partners and using the teams knowledge of how the industry works and thinks.
RNLI crews aim to launch lifeboats within 10 minutes of being notified, and can operate up to 100 nautical miles out to sea. RNLI aim to reach 90% of casualties within 10 nautical miles of the coast, within 30 minutes of a launch – in any weather.
RNLI saves lives at sea throughout the UK, Ireland, Isle of Man and Channel Islands. This is achieved through four principal activities; lifeboats, lifeguards, community safety, flood rescue. These four strands make up the RNLI Concept of Operations.
The RNLI relies on public donations and legacies to maintain its rescue service. As a charity it is separate from, but works alongside, government-controlled and funded coastguard services.
Since the RNLI was founded in 1824 lifeboat crews and lifeguards have saved at least 140,000 lives. Volunteers make up 95% of the charity, including 4,600 volunteer lifeboat crew members and 3,000 volunteer shore crew.