Rapid Deployment Horizontal Lifting System for Man Overboard Retrieval
Jason's Cradle is designed for quick deployment, the system provides a horizontal lift and efficient retrieval of casualties who are injured or unable to assist themselves due to injury or high freeboard. Jason's Cradle is used around the globe in all rescue areas within the marine sector including offshore, military, rescue agencies, coastguards, passenger liners, superyachts and RIB operators for man overboard recovery.
Jason's Cradle offers a quick and safe method of retrieval for conscious or unconscious casualties. Jason's Cradle is designed to retrieve people quickly and horizontally from the water. The horizontal recovery position assists in enabling the casualty's blood to remain in the upper torso helping to minimise the potentially fatal effects of 'dry drowning', now more commonly known as Circum Rescue Collapse.
The Standard Jason's Cradle can be easily rolled up for stowage or is simply fixed to the deck or rail to enable deployment within seconds. The standard cradle deployment of the Cradle forms a non-collapsible scoop. The casualty is guided into the Cradle head first, a strop and hauling lines are pulled to close the loop. A co-ordinated and methodical lift then takes place. The casualty is retrieved by rolling onto the deck in the medically preferred horizontal position.
The Jason's Cradle Rescue Stretcher is a safe and accepted method of rescuing a casualty from the water. The design and construction of the Rescue Stretcher gives it a two-person lift capability. The range includes standard units, stretcher units, scramble nets, fast rescue craft kits and specialist bespoke products. Commercial units are fully SOLAS approved. In addition to its use in the commercial marine sector the Jason's Cradle Recovery Stretcher is in use with militaries around the world.

Garth Matthews - Managing Director, Jason's Cradle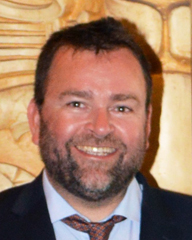 Garth first worked for Jason's Cradle in his school holidays in the 1980's. He came back into the family business in 2010 following a career in manufacturing quality assurance. Firstly covering technical sales and eventually taking responsibility for all matters technical, including production. He became Managing Director in 2015. Soon afterwards the business moved into bespoke premises in Church Crookham.

Recent projects include supplying large Jason's Cradle Scramble Nets to military and offshore clients as well as fitting out the French Navy with bespoke kits for their FRB's.
He has worked closely with academies and training college's around the world assisting them in training with correct techniques and equipment. These include SUNY Maritime College in US, Maritime Safety and Survival Training Centre in Reykjavik and Warsash UK.
Garth also assisted the MSC in the drafting of SOLAS III/17 – 1, 'Plans and procedures for recovery of persons from the water'.