Specialist Poles and Attachments for MOB Search and Rescue
Reach and Rescue manufacture a range of long telescopic carbon fibre and fibreglass poles with specialist tools that make distant retrieval easier for rescuers. Designed for rapid deployment, Reach and Rescue Poles improve the operator's safety and capability at water, ice, mud or flood related incidents. Reach & Rescue Telescopic Rescue Pole is designed to accurately deploy a flotation / rescue device from boats or land to a casualty. The Pole can be stored in a storage box or a fast opening bag. The Reach and Rescue Pole has been designed to improve the operator's safety and capability at water, ice, mud or flood related incidents.
The telescopic poles are designed to collapse as short as possible and allow a rapid deployment to the maximum reach whilst remaining manageable by hand. Standard poles extend from 5 metre (16 feet) to 17 metre (55 feet) and collapse to 1.8metre (6 feet) to 2.6metre (8 feet 6"). The main safety feature is a top to base internal safety line fitted inside each telescopic tube (except for the 5m version). In the event of a breakage or disconnection the line ensures the casualty can still be retrieved.
The Reach & Rescue Pole incorporates a set of 8 telescoping tubes made from carbon fibre. They are guided and controlled by high density moulded clamps using stainless steel bolts and alloy levers. The base section of each pole is made from fibreglass to prevent the possible event of electrocution when the pole is used around overhead electrical lines.The Reach & Rescue Pole is versatile with a large selection of flotation and retrieval attachments that are available in kits or individually. All sizes of pole have the same top end quick release mechanism that fits all attachments. This enables the Pole to be tailored to suit the requirements of the rescue situation.
Jo Taylor - Director, Reach & Rescue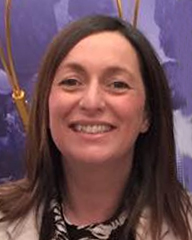 Jo is business owner and International Sales Director of Reach and Rescue.
During her 8 year tenure, Jo has managed to build a business internationally, oversee operations and strategic planning that has resulted in a 400% increase in turnover and 600% increase in profitability .
Before this role, Jo was a Personal Assistant to CEO of a FTE250 company in the Construction Industry and was a key player in the growth of the business via acquisition and trading.
Jo holds a degree in business management gained in 1999.