How Drones Can Be Used For Man Overboard Search & Rescue
The fixed wing and quadcopter drone industry is already using a wide range of models for commercial roles. It is essential to identify whether these rapidly evolving aerial platforms are suitable as COTS (commercial off the shelf) solutions for the maritime sector, or whether a different set of capabilities are required at design stage for over water operations.
The decision-making process in purchasing a quadcopter, also known as a UAV or Unmanned Aerial Vehicle, for maritime search and rescue or patrol applications needs careful consideration. Some operations require heavier payloads such as rapid delivery of inflatable rescue devices to casualties in the water, while for activities such as real time observation, video imaging or photography the payloads may be lighter.
As drones evolve they are becoming capable of flying in higher wind conditions. In these conditions launch and recovery needs to be considered with regard to operator safety and minimising damage to the machine. Drones can be flown in swarms to increase coverage over land and water or programmed to fly autonomous search patterns. For search and rescue roles, UAVs can be rapidly deployed from land to reach the target area in advance of the marine asset. When supporting larger vessels, in a mother-daughter role, the effect of a higher viewing position significantly increases range of sight, particularly in waves.
Peter King - Technical Director, Total UAV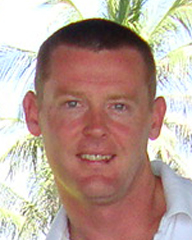 Peter has worked in the computer and electronics industries as a self employed consultant for over 28 years.
He has been developing drone systems for the past 6 years.
Drone projects have progressed from basic hobby grade toys to business grade aerial photography platforms.
The next stage has been developing fully autonomous aerial systems for industrial and military services.
Over the past 3 years this has evolved into developing a search and rescue drone system which was demonstrated as proof of concept with lifeboat trials at sea in 2017.
Peter now runs Total UAV Ltd, in partnership with former Aston Martin mechanical design engineer Richard Lewis, to further develop drones for the search and rescue industry.